Sunbaked? 9 Shade Ideas for Your Porch, Backyard, and Beyond
With the dog days of summer upon us, seeking relief from the blazing sun is a must—but if you lack natural shade from large trees, what then? Don't sweat it! Here are nine smart shade options for your deck, backyard, and other sunny spaces.
1. Patio umbrella
Photo by Jason Jones Photography
Karen Gray-Plaisted of Design Solutions KGP likes the Tuuci collection from Design Within Reach for its clean lines and uncanny ability to hold up to the elements.
Drew Henry of Design Dudes votes for an umbrella because you can select a color to accent your outdoor space and store it in the offseason. Try one that's cantilevered so you can angle it to beat back the sun's rays wherever they land.
2. Retractable awning
Photo by J Cohler Mason Design 
Free-standing or retractable awnings are possibilities if you need more coverage.
"We've had awnings in the past that we put up every spring and took down before the snow fell, which was a bit of work, but having them was nice because if it started to rain you could still sit outside and relax," notes Gray-Plaisted.
3. Arbor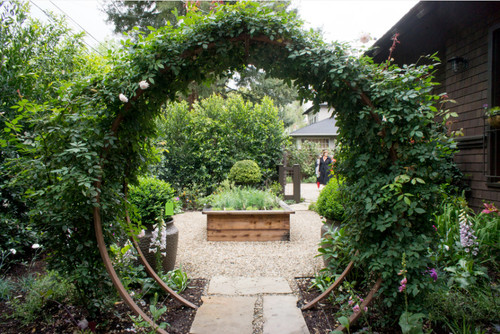 An arbor is a stand-alone pick that's usually designed with lattice along each side and a curved or arched top. This shady delight works well on a pathway or to signal a garden entrance.
"An arbor adds an architectural detail, defines your outdoor living space, and they're ideal for vines and other plants to grow on and create natural shade," explains Henry.
4. Pergola
Photo by Neumann Mendro Andrulaitis Architects LLP 
It's easy to mix up arbors and pergolas, so here's a tutorial: An arbor is a free-standing structure, while a pergola can stand alone but is typically attached to a house or other  building in at least two places. Pergolas are also larger and have a roof grid or latticework above, which creates dappled light.
As with arbors, pergolas can accommodate creeping vines and flowers (Gray-Plaisted has wisteria growing on hers) or they can be draped with fabric for more sun protection.
"A pergola also stands out when you string cafe lights on it, which makes a great light source at night that really sets the mood," says Henry.
5. Pavilion
Photo by American Landscape Structures 
The hallmarks of a pavilion include a hutlike roof with open sides—but no actual floor. You'll usually see this structure on a patio or concrete platform with chairs and a table arranged in the shade underneath.
6. Gazebo
A gazebo can be confused for a pavilion, but you'll know this shade option right away by its rounded or oval shape (a pavilion is square or rectangular). A gazebo has a semblance of sides, with a railing and slats at the halfway mark, and it's also set on a platform or built-in floor.
7. Shade sail
This easy shade pick is fun because it comes in a variety of shapes and colors to stretch over a sunny patio. Shade sails attach to your house with D-rings and clips, though at least one end will likely need to connect to a post or tree in the yard.
8. Overhead screen
Screens don't offer full shade, but they'll block some rays and heat. Rattan mats offer better coverage, and both can be laid over the top of a pergola. Free-standing screen room kits are available at home stores, and motorized screens can also be set up to retract over your porch.
9. Latticework
If you love the look of a pavilion but want a more open feel, skip the roof part and install latticework. Vines can grow on top, or shade sail  material can be installed above for a pop of color and to block more sun.
Jennifer Kelly Geddes creates content for Livestrong.com, the National Sleep Foundation, Fisher-Price, and Mastercard.